Wetsuits are probably the most important item in any triathlete gear arsenal. They are a layer of protection, a buoyancy aid and help conserve essential energy. A good wetsuit can be a boost for beginners who need a bit of confidence in the open water. For season pro's who are looking to snip seconds off their time, the right wetsuit can help them too.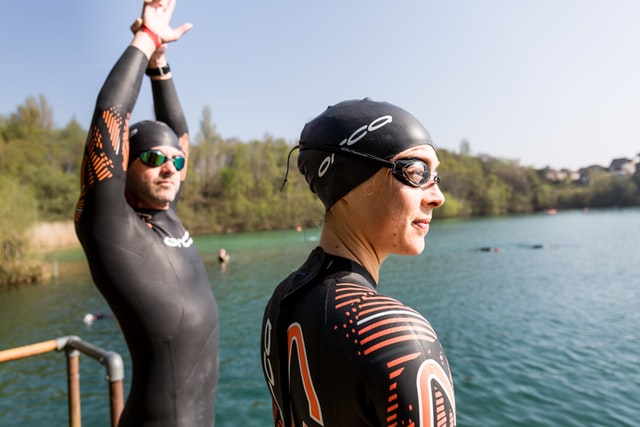 Here's what to look for in your triathlon wetsuit.
Added Buoyancy
Triathlon wetsuits ensure you are kept afloat (but remember they are not safety flotation devices). Having that reassuring buoyancy will lift you in the water which helps increase your swim time.
Buoyancy is built into triathlon wetsuits in key areas. The lower end of the body sinks first so this is where most of the buoyancy is added. Special panels are added into the seat and lower back area, helping to lift your legs and hips. This extra lift is hugely beneficial in open water swimming.
Some triathlon wetsuits also have buoyancy added into the chest panels. These suits are a good choice for beginner triathletes and also for anyone who needs to build swim confidence.
Warmth
Triathlon wetsuits act as an extra layer of skin and protection. Nearly all wetsuits are made from a type of flexible rubber called neoprene which allows for a snug fit.
When you enter the water, a thin layer of water is trapped between you and the wetsuit. As you swim, these layers act as an insulator and keep you warm. Staying warm when you swim helps conserve energy that your body would otherwise use to heat you.
Speed Assistance
Every second counts in a triathlon race. Having the right wetsuit means saving more of those all important seconds. The buoyancy and freedom of movement are helpful for adding speed. However, it is the aerodynamic design of a triathlon wetsuit that helps to increase speed.
Extra buoyancy means that your energy and actions only need to focus on propelling you forward in the water. Aerodynamic design reduces drag and works with buoyancy to help keep your body in the optimum position. Ask instore about triathlon wetsuits that help increase speed.
Triathlon terms: You will hear people talking about drag when swimming. Drag is that feeling of being forced to slow down in the water. It can be caused by the wrong fit of wetsuit, bad swim technique and waves.
A Good Fit
Wetsuit "fit is critical" says former Team GB Olympic coach, Dan Salcido. When a wetsuit is too tight, you will not have the range of mobility you need to swim effectively. A wetsuit that is too loose will allow too much water in and increase drag. Always try on a wetsuit before you buy to ensure you're picking the correct size.
A wetsuit should be snug but never so tight that it's hard to move or breathe. We have a wide range of stock at The Edge Sports in Cork. Many of our team here are seasoned triathletes and can help you find the right fit.
Wetsuit Thickness
Wetsuits come in different thicknesses and neoprenes of varying quality. For triathlon beginners wetsuits tend to be thicker and more buoyant. This allows for focus on technique and gets the swimmer comfortable with open water swimming.
Elite triathlon wetsuits are thinner and more flexible. The season triathlete will have perfected their swimming techniques and therefore want a wetsuit that suits their skill level. An average thinner wetsuit will not keep the swimmer as warm, something they will have to adjust to in training. The lightness can however add seconds to seed.
The best thinner suits are made from an advanced type of neoprene that still has the helpful buoyancy and heat retaining qualities.
Triathlon tip: Some triathlon competitions are very strict about the thickness of wetsuit that competitors can wear. Check the rules when you decide to enter and train in the suit you will compete in.
Neckline Size
When trying on a wetsuit, pay particular attention to the fit of the neck. When the suit is zipped up fully, the neckline needs to do two things: allow unrestricted movement and create a seal.
A wetsuit neck that is too tight will dig into your skin when you move your head to sight and breathe. A loose necklinewill let in water whilst you swim and increase drag.
Types of Triathlon Wetsuit
Full Sleeve
Multiple tests have shown that full sleeve wetsuits are generally quicker. This is mainly down to the extra buoyancy that having sleeves adds. Having a full sleeve also adds a little more warmth, essential if you are competing in cold open water.
The right full sleeve wetsuit will not hamper your flexibility. Triathlon wetsuits are designed specifically to ensure you have the range of movement you need.
Sleeveless
Having greater shoulder mobility is the key reason some triathletes prefer sleeveless wetsuits. However technology has greatly improved in the last decade or so with manufacturers designing wetsuits to a level where the full sleeve doesn't impact the motion as much as it once did. Even so, the feel of more freedom is attractive to a small contingent of swimmers.
Triathlon tip: Choosing between a sleeveless or full sleeve triathlon wetsuit is down to preference. Borrow one of each to try out before buying your own suit.
Best Wetsuit For Your First Triathlon
Picking your first wetsuit can be a daunting task with so many to choose from. If you're looking for an affordable wetsuit with high visibility then you might consider the Orca Open Water.
With bright orange panels you can feel safe in the knowledge you're visible whilst out in the open water. The Orca Open Water is also very thin around the arm and shoulder areas which helps flexibility.
This wetsuit is also great for more experienced triathletes looking to improve. Using this wetsuit for technique training works as it doesn't give too much buoyancy or positioning assistance in the water.
The Orca Open Water has 2.5mm in the thickest area and is therefore not as buoyant, or warm, as some other options. Without extra buoyancy on the hips you will have to train more to help stabilise your roll in the water.
This is for you if: you want to be visible and not spend too much.
You can find our selection of Orca Open Water Wetsuits here.
The Orca S7 is the step-up from the Orca Open Water. The Orca S7 is  equipped with thicker neoprene and therefore more insulation and buoyancy. With strategically placed thicker neoprene (5mm) at the hips and legs, your lower body stays up at the surface.
The added buoyancy and warmth makes this a good wetsuit for those who are not yet confident in the water. For swimming in Irish waters this is the most suitable Orca entry level option and is available for a very reasonable €179.
The Orca S7 can be found in-store or on our website.
If you would like to find out more about purchasing a triathlon wetsuit don't hesitate to contact us instore, on the phone on 021 432 0522 or via email at info@theedge-sports.com