When you get the bug, a little thing like winter won't stop you from getting out for your run. Though Ireland might not get much snow, winters here can be cold and wet, so it's essential to take care. Beginner and experienced runners can benefit from seasonal adjustments to their running gear. Switching out the summer kit for running gear that's better suited to the cold and darker days.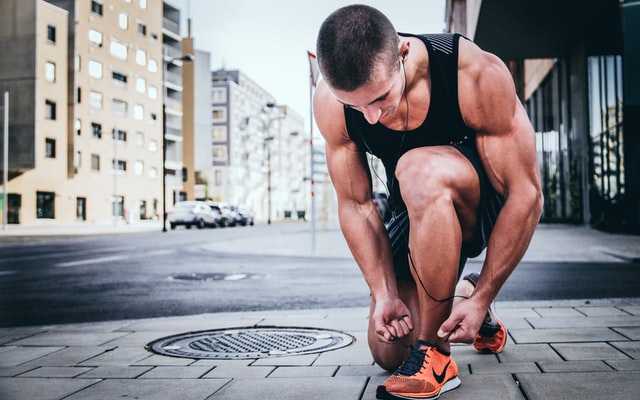 What Your Winter Running Kit Should Do
Keep You Dry – Running in the winter means there is more chance of running in the rain, mist or drizzle. With this in mind, look for running gear that is aimed at keeping you dry.
Keep You Warm – Likewise, the days will be considerably colder so pay attention to the fabrics used for running gear. Some will naturally regulate your temperature to keep you warm, but not too warm. There are also synthetic fabrics designed to regulate warmth, as well as wick away sweat.
Be Weather-Ready – If there's one thing Ireland gets plenty of in winter, it's wind. While running in extremely windy weather isn't advisable, general blustery days should be safe. Irish runners looking for winter running gear should keep an eye out for windproof options. Having windproof running gear will prevent your core from cooling down prematurely and help make the run more enjoyable.
Grip – Road and trail runners should pay heed to the ground conditions as the seasons change. In winter, the grip may be hindered by slippy leaves, ice and wet surfaces. Your winter running shoes should be designed to assist with this.
Keep You Safe – Natural light is significantly reduced in winter at all times of the day. Visibility will be reduced for drivers, other pedestrians and road users. Ensure that you stay seen with plenty of high-vis and reflective kit.
Layering For Winter Running
In changeable weather, layers are always advisable. Layers trap heat between one another, insulating your body against the cold weather. By using thinner layers together, you also avoid the risk of overheating – which can happen in any weather.
Being able to take off or add lightweight layers as needed works better than running in cumbersome waterproofs. By managing your temperature, you are sustaining your running time and consistency. It is also a lot more enjoyable to run when you're not too cold or too hot.
Pro runner Tip: When you start to notice the colder weather coming, introduce layers gradually. Start by lengthening your sleeves and legs, then a hat and a gilet, before wearing your complete winter kit.
Winter Running Gilets
Let's start with the outer layer and work inwards. When the seasons begin to change, it's advisable to move to a running gilet before a jacket. This allows you to adjust to running with the weight of another layer and the body temperature change.
A gilet, or body warmer, protects the vital core area whilst keeping your arms free. It can be worn with a short or long-sleeved t-shirt, depending on your preference.
Look for a lightweight gilet (essential for layering), water-resistant and breathable. Added bonuses are gilets with pockets for your keys or phone. Gilets also come in different thicknesses, which doesn't always indicate the insulation levels. Some thinner gilets have specially designed thermal qualities that outperform thicker options. Always check and compare the specifications on the label.
Winter Running Jackets
When you are ready (or forced by Irish winter weather) to start wearing a running jacket, try them on first. Every jacket feels different, and you need to be comfortable to get the most from your run.
Nearly all running jackets now are lightweight and windproof. Not all are waterproof or shower resistant, though. If you are committed to running 'no matter what the weather', then you will definitely want a waterproof option.
For anyone who runs early or late in the day, go all out with the reflectiveness of your jacket. Don't risk not being seen; brands like Ronhill, ASICS, Nike and Joma all have stylish, practical, reflective jacket options.
Opt for lightweight fleece-like jackets when it's cold but dry and you don't want to run in waterproofs. There are moisture-wicking versions that will keep the sweat away from your body, helping to keep you warm. They can also be layered with your waterproof jacket when the weather gets freezing.
Running Tops
You don't have to ditch the short sleeves straight away but come October – November, you might want to. Long-sleeved running tops are the next step. A long sleeve top might suffice for the first week or two if worn with a hat and gloves.
On milder winter days, wear long-sleeved tops with a reflective running vest. Then, on colder days, switch out the regular long-sleeved tee for a thermal base layer. Thermals have come a long way in design and don't just keep you cosy anymore. Thermals are now super soft, very stylish, runner apparel, and ideal for winter runs. As well as adding a base of warmth, modern sport thermals wick away moisture and often feature reflective strips.
Anyone who runs long-distance or just runs regularly might be looking for extra comfort. In this case, look to running tops with seamless designs. These tops are less likely to rub and chafe when running.
Pro runner Tip: It's important to note that you should wear what works for you. If you need more layers earlier on, then so be it. Everyone's body and running performance are different, and how we tolerate the cold is different too.
Running Trousers
Your upper body core temperature is the number one area to protect in cold weather. However, once the cold, wet weather sets in, every area needs to be protected. Forcing yourself out in the cold without full gear will lead to you feeling less motivated. To keep enjoying your run training, you have to feel good.
Running trousers for men and women are available in a range of styles. Some have next to skin snugness, whilst others are looser. Runners preferences dictate their choice, but there are benefits to all types.
Cotton-blend fleece running trousers guarantee warmth but are on the heavier side of the options available. For occasional outdoor training, you might not feel the weight difference. Regular runners who are used to lightweight summer gear might prefer lighter options, though.
Lightweight and ultra-lightweight running trousers tend to be quick-drying and a snug fit. That's not to say they are not flexible. A snug fit sculpts the body for extra flexibility and sweat-wicking performance.
Winter Running Accessories
Once you have the main gear to keep you warm and safe, you might like to add some winter running accessories. Though not essential, running accessories can be useful and often add extra comfort.
Running gloves will keep the biting frost from your fingers. Cold hands are one of the first things runners notice in winter, and they can out you off your run.
Similarly, exposed areas like the ears, neck and head can become cold quickly, especially if it is raining. Running headbands and running hats will keep the chill off and add an extra layer of protection. If your neck tends to get cold, either look for running tops with fleeced collars or pick up a snood.
Pro runner Tip: Instead of running with a hood up, use a waterproof cap or hat. This retains your peripheral vision and helps prevent accidents. It is also easier to hear traffic and road users when not wearing a hood.