When you're sea swimming or surfing in Ireland, a good wetsuit is a must to ensure you stay warm and safe in the water. Finding a good wetsuit is easier when you know what you're looking for and that means understanding the different types and options. We've put together this essential guide to finding the right wetsuit, to help you make your choice.
A wetsuit is designed to keep your core warm in cold water, and is usually made of neoprene, a synthetic rubber fabric. Wetsuits allow water in, through tiny holes, but the water is then trapped next to the skin and heated by the body, creating a layer of insulation that helps to keep your body warm.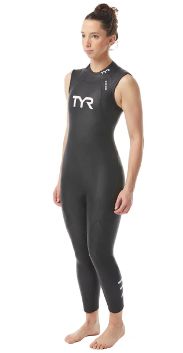 Choosing a wetsuit: things to consider
There are different styles and types of wetsuits for different purposes and your preferences will determine your choice, along with your size, shape and the activities you want to participate in. For a triathlon, for instance, you'll prioritise flexibility and freedom of movement over warmth. This Women's Hurricane CAT1 SVP Wetsuit is sleeveless, giving you the best of both worlds, with speed wrap panelling on the legs and chest.
Wetsuits are either shorties, which have short sleeves and are cut above the knee, or full length, covering the body from ankles to wrists and neck. Full-length wetsuits are usually cut thicker than shorties and are much better suited to being in the water all year round. Shorties are a comfortable and easy option for the summer months and are generally easier to put on and take off than full-length options. We love this C-Skins Element 3/2mm Women's Shorti Wetsuit, with breathable flatlock seams and a combination of performance technology that is perfect for swimming and surfing.
How does your suit fit?
A wetsuit needs to be tight all over in order to do its job properly, and if it's baggy in places, it'll let too much water in and you'll feel the cold immediately. The tightness of a wetsuit can feel uncomfortable, to begin with, and may take a little getting used to, but it's a good idea to try on plenty of options so that you can see what you prefer.
The thickness of your wetsuit will affect the fit and how it feels in the water. Wetsuits are usually between 3-5mm in thickness and this is shown in the thickness size. You'll see a label such as 4/3mm, which relates to the thickness of the neoprene on the torso and then the measurement of the neoprene on the arms or legs, or areas which require more flexibility. The higher the number, the better the wetsuit will keep you warm and snug in the winter. You might feel that a thicker suit is more restrictive in the summer when the water is warmer, and this is down to personal preference, but if you're planning to use it all year round, you'll certainly be grateful for the thickness when it cools down.
Stitching options on wetsuits for men and women
The way your wetsuit is stitched will affect the amount of water that can enter the suit and this will make a big difference to how warm it keeps you.
Overlocking. Summer wetsuits and cheaper options often use overlock stitching, which just rolls together two edges and stitches them. This is the least flexible option and may create uncomfortable seams. This is the method generally used for budget, mass-produced wetsuits. 
Flat locking. With flat lock stitching, the two pieces are overlapped and stitched with zigzag stitching, which creates a breathable option most suitable for the summer. This C-Skins Element 3:2 Women's Steamer Wetsuit is an excellent example of a women's wetsuit with flatlock seams and also features Duroflx knee pads and a Super Seal glide skin collar.
Glue and blind stitching. GBS is a technique in which pieces of the wetsuit are glued and then stitched only halfway through the neoprene, improving the waterproofing and reducing the amount of water that can enter the wetsuit. This gorgeous Women's Surflite Wetsuit sports fully sealed GBS seams and is a popular option for warmth and flexibility. 
Welded options. Welded seams are joined using a silicon-based seal, so there are no holes for the water to get through. These are usually only used on professional-quality wetsuits.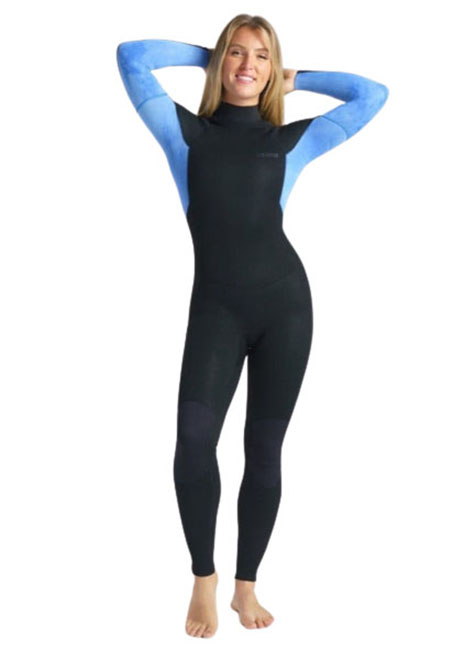 Fastenings on your wetsuit
Some wetsuits have zips on the back, which makes them easier to take on and off but may reduce flexibility and allow more water into the wetsuit. Wetsuits with a chest zip tend to have a smaller opening which can be more challenging to put on, but this style is usually more flexible and keeps more water out. There are also options with no zip, which creates a very comfortable wetsuit that keeps out more water but can be more expensive and some people don't like putting on zip-free wetsuits, which have a cord instead of a zip.
This C-Skins Legend 3:2 Men's GBS Back Zip Steamer is a great example of a wetsuit with a back zip and GBS stitching and critically reinforced seams, while this luxurious Xcel Men's Infiniti X2 LTD 5/4mm Wetsuit is designed with a semi-dry magnetic zipper on the chest, and triple glued and blind stitched seams with heat pressure bonded seam protection.
Which wetsuit is right for you?
If you're surfing all year round, you'll want the thickest wetsuit you can be comfortable in, and you'll need to try a few to ensure you have the flexibility you need. A swimming wetsuit tends to be thinner and more flexible around key areas such as the shoulders, hips and knees so you can move more easily in the water. Some wetsuits also include buoyancy panels, which can help you to create a more streamlined effect in the water and are designed for speed and freedom of movement. If you're competing in triathlons, you'll want a more flexible option than if you're catching the waves on a surfboard, so talk to us about your lifestyle and we'll help you to find the right wetsuit.
It really is all about the fit, as water will pool in areas that are not tightly fitted to your body and this will make you cold! You'll want a wetsuit that isn't too difficult to put on and take off, and trying several options is the best way to find a design and style you like. Then it's time to get out in the water and give it a good test run!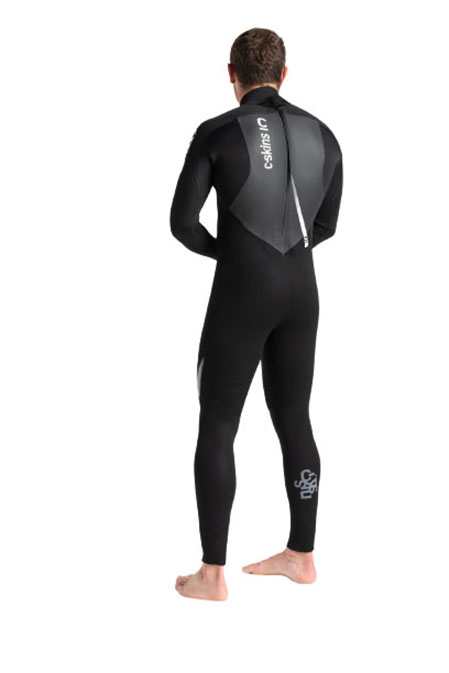 Stay safe in the sea
Water temperatures are cool in most areas of Ireland all year round, ranging from 8-16 degrees Celsius depending on the season, so there is a risk of cold water shock all year round. We suggest acclimatising slowly as entering the water suddenly can put the body into shock. Wearing a wetsuit helps to keep your core warm and allows your body to acclimatise to the cold water gradually, so ensure that you wear one, especially when you're getting used to the sea. Add neoprene gloves, boots or socks and a hat to protect your extremities when it's colder and have a hot drink ready to sip when you come out of the sea and your temperature drops.
Swimming in the sea is safer if you're visible. A wetsuit, like this Orca Men's Open Water Core Wetsuit, is an excellent way to ensure that you can be seen while swimming, and you should invest in a good tow float, which is an inflatable device that helps you to stand out in the water and enables you to rest if you get tired. It's also a useful way to store your personal belongings safely while you swim! If you're surfing, your surfboard will enable you to rest if needed. It's important to ensure that you never swim or surf alone, and have someone spotting you from the shore in case you get into difficulties while you are in the water.
Find your new wetsuit in Ireland
Sea swimming, surfing and bodyboarding are excellent ways to keep active and enjoy the beautiful Irish coastline, and we can help you to find everything you need to make the most of the water all year round. We've got accessories to keep you safe, such as tow floats and whistles, and our ranges of wetsuits for men and wetsuits for women offer many great options for all.
We love to get outdoors in Ireland and we will be delighted to help you to find the wetsuit that suits you best. You can order online or pop in and talk to us at The Edge at Kinsale Road in Cork, contact us at +353 (0)21 432 0522 or visit our website to find out all you need to know about surfing and sea swimming and pick up your new wetsuit today!